Back in 1984, the first Macintosh computer was released, Karate Kid hit theaters, and Jeff Hartsell joined S&P USA (then known as Stanley Fans)! Jeff began his journey with our company on our shop floor building small prop fans.
Jeff's time on the shop floor was invaluable as it helped him master the equipment, products, and certifications that we offered. Eventually, Jeff moved into the laboratory, where he honed his skills in product testing.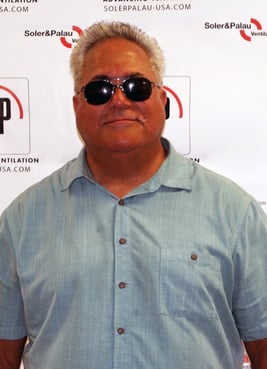 Fast forward to 2023, and Jeff is still with us, serving as our laboratory manager and is an expert on every product we sell. His days are filled with testing products to ensure they meet our high standards and certification requirements, such as AMCA, UL Motor, and more.
Jeff's unwavering commitment to his job, team, and safety is greatly appreciated by all who work with him. He takes on daily challenges with enthusiasm, and says his favorite part of his job is "EVERYTHING". Jim Webster, Jeff's longtime friend and colleague, describes Jeff as having a heart "as big as this room."
S&P USA wants to express our sincere gratitude to Jeff for his 40 years of service to S&P USA. His dedication and hard work have helped make us the company we are today. Thank you, Jeff!