Wiring motors for commercial, industrial, and residential ventilation applications is a difficult task. At S&P USA we work with dozens of motors, across multiple horse-powers, each with numerous iterations of wiring patterns. This provides our customers the flexibility they need so they can quickly secure jobs that require flexibility of spec. Not all ventilation companies can provide this range of power at the quality our customers require in-field.
Dedicated team members who are passionate about honing their craft are essential to ensuring the delivery of the appropriate electrical current at the right time. To ensure our continued drive for the highest quality in North America, our Underwriters Laboratories (UL)-certified in-house lab sought a way to both educate our production team members and also support the valued technicians installing our ventilation products in the field.

During our team's monthly Town Hall in June, the New S&P USA Motor Control Wire Board (MCWB) was debuted!

Instead of laboring through stacks of paperwork or designs, S&P USA employs the concepts of visual management to identify root causes and solve them quickly. With visual management, any team member can now easily identify connections from input line voltage up through control. This crystal-clear visualization serves as a reinforcement tool for current employees, creating stronger foundational knowledge and pride in the work they do. Even better, new employees will begin with the correct understanding that they can see and touch.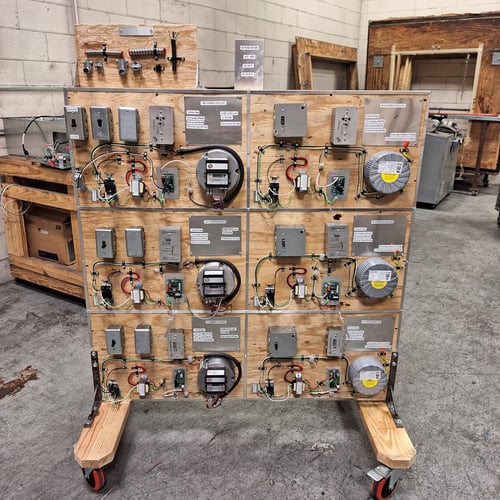 The MCWB also aligns with our dedication to supporting our partners in the field. Instead of laborious phone calls or emails common to the HVAC industry, S&P USA customers can view a photo of the S&P USA Motor Control Board to quickly clarify any wiring concerns and identify solutions instantaneously.

For instance, if a contractor in the summer heat of North Florida needs to train a new installer on our S&P STXD upblast direct drive centrifugal exhaust fans, which exhaust up to more than 4,700 CFM, and they know they are using a Nidec motor equipped with the EVO-ECM/VCU control, S&P USA can take a picture of the bottom control set on the visual board to assist the customer in tracing the connections.

We are excited about how the S&P USA Motor Control Wire Board has already supported our team. Thank you to Jeff, Noel, and Joe for spearheading this project!