On any given day, hundreds of fans are moving around and out of our headquarters in sunny Jacksonville, Florida. Zipping by in his forklift, Anh van Le, or Le as he goes by in our office, strategically packs trucks with fans heading to customers across the world.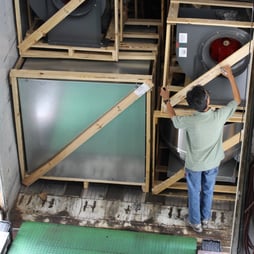 His 23 years with S&P USA helps him easily pack the trucks without the assistance of a measuring tape. This careful game of Tetris happens before your eyes wondering, just how he is going to fit the largest SDBDs (Downblast Direct Drive Centrifugal Roof Exhaust Fans) in with tiny reFresh (Filtered Supply Fans), occupying the precious square space most cost-effectively.
Loading trucks isn't all that Le does. He assists the team with numerous tasks throughout the plant with a blueprint of the warehouse in his mind. Le can be seen helping to locate products for the engineering team or helping prepare for events.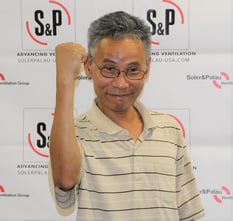 Le was recognized for the quality checks he does by our Export Manager, Hugo Kurona. "Le is a valuable collaborator regarding the last and most important steps of the process- Shipping our products. He does quality control before loading a truck and container, impressing us with his memory of the space each product occupies."
We thank Le for his hard work, no matter the task at hand. His knowledge and attention to detail are appreciated to ensure we provide our products safely to their final destination.