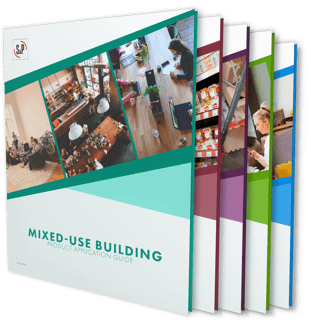 S&P USA has been talking a lot about Product Application Guides for the last couple of years. But what exactly is a Product Application guide and how can they be useful to you?
What we have done with these guides, is create informational materials dedicated to specific markets and ventilation applications to help our customers. A LOT of analysis goes into selecting which applications we want to focus on: do we have the product offering to support the application, are our products competitive (pricing, efficiency, and quality) in the application, and is it a market that we see growth for our customers and for us as a company? We feel confident that the answer to all of these questions is "yes" for the applications we've focused on.
In case you've missed it, the product application guides we currently offer are Residential, Warehouses/Distribution Centers, Mixed-Used (Multi-Family), Food Retail, and Restaurants. As we continue to develop those markets and products, we decided it was time to introduce two more Product Application Guides.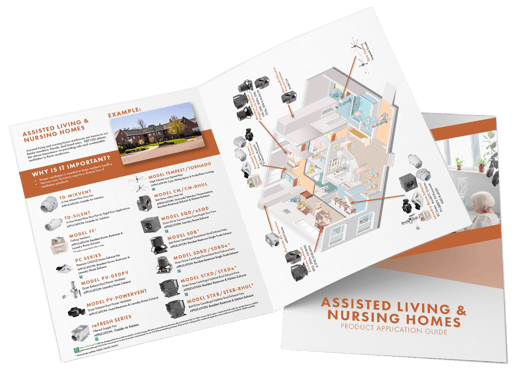 Our first new addition is Assisted Living (retirement homes). S&P USA has had a lot of success supporting these projects over the years. So now we wanted to highlight how we can continue to help and grow business for our customers in this application.
Some of our most treasured family and friends call assisted living facilities home, so it's very important to keep the air clean. Similar to mixed-use buildings, Assisted Living facilities present unique applications that mix residential and commercial products.
One of our many specialties at S&P-USA is projects that mix residential and commercial products. That's due to the fact that we have great product lines in both areas. For instance, we offer our Premium CHOICE Series Exhaust Fans and FF Ceiling Ventilators to exhaust air from both bedrooms and restrooms, or our S-Series Centrifugal Exhaust Fans to ventilate large restrooms.
When it comes to specialized rooms like large kitchens, we have our S-Series RHUL fans. Finally, in laundry facilities, we'd recommend our PV-DEDPV Dryer Exhaust Duct Power Ventilator or eSQD Square Inline Centrifugal Duct Fans to remove humid air. No matter the design of your space, I'm confident we have a solution to ventilate the area.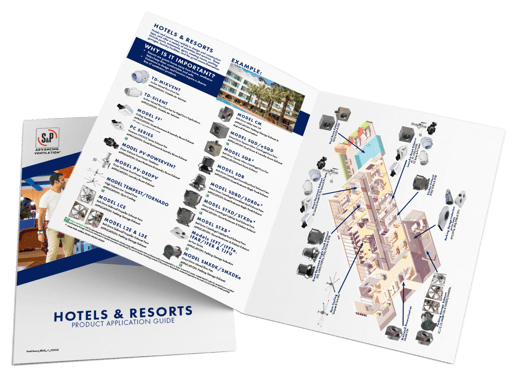 S&P USA's second new Product Application Guide is Hotels/Resorts. Due to the residential and commercial nature of both Assisted Living Facilities and Hotels, there is some overlap in ventilation products that they require. But there are definitely aspects that make Hotels/Resorts unique. For instance, you may see larger gyms in hotels and resorts that could use our new THVLS Tempest and Tornado High Volume Low-Speed fans, or there might be elevators where you could use CM Utility Vent Sets for elevator shaft pressurization. These products ensure a comfortable and safe vacation for hotel and resort guests.
Since their launch, S&P USA Product Application guides have offered ventilation solutions to many customers. We are excited to see how these new guides will continue to do so. To view all of our Product Application Guides and contact our team about your next project, visit solerpalau-usa.com.