The importance of energy efficiency has grown significantly in the past decade as building codes require more efficient products and customers look for energy savings. To respond to this demand, S&P USA has focused on creating products that utilize more efficient motors and consume less energy.
Our efforts have been recognized by several organizations, one being ENERGY STAR®. S&P USA is proud to sell over 20 models that carry the ENERGY STAR designation and to continue developing future products.
In honor of ENERGY STAR Day, we're diving into what it means to hold the ENERGY STAR designation and which S&P USA products meet their standards.
What is ENERGY STAR?
"ENERGY STAR® is the government-backed symbol for energy efficiency, providing simple, credible, and unbiased information that consumers and businesses rely on to make well-informed decisions. Since 1992, ENERGY STAR® and its partners have helped American families and businesses save 5 trillion kilowatt-hours of electricity, avoid more than $450 billion in energy costs, and achieve 4 billion metric tons of greenhouse gas reductions. ENERGY STAR is the simple choice for energy efficiency, making it easy for consumers and businesses to purchase products that save them money and protect the environment." (Excerpt from energystar.gov)
What is ENERGY STAR Day?
ENERGY STAR Day is an annual celebration of energy efficiency and ENERGY STAR's mission.
S&P USA's ENERGY STAR Products
S&P USA sells several products that hold the ENERGY STAR designation. These products span our reFresh, Premium CHOICE, TD-MIXVENT, and TD-SILENT product lines.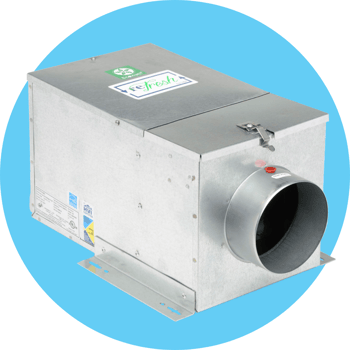 reFresh Filtered Supply Fans introduce fresh air from outside the building into the home through high-quality, efficient backward inclined motorized impellers. S&P USA's Full-Size EC motor models (RF10-160EC, RF10-160EC-ES24V, RF10-160EC-P, RF10-160EC-P-ES24V) and Low Profile EC motor models (RF8-120EC, RF8-120EC-ES24V) are currently ENERGY STAR qualified.
For five years running, S&P USA has been proud to receive the ENERGY STAR Most Efficient designation on our reFresh Full-Size 160EC models.

Premium CHOICE Series Exhaust Fans offer powerful performance while remaining quiet and efficient. S&P USA has several models that are ENERGY STAR qualified, including AC Motor Models (PC50XP, PC80XP, PC110XP, PC150XP), DC Motor Models (PCD80XH, PCD110XP, PCLPD100XHP), Value Models (PCV80), and Low Profile Models (PCLP80, PCLP80XP, PCLP100XP, PCLPD100XHP).
In 2023, our Premium Choice Exhaust Fan, PCD110XP, garnered the Most Efficient of ENERGY STAR 2023 designation. PCD110XP features the most efficient DC motor available to help improve indoor air quality by quickly exhausting contaminants and excess moisture that can cause health issues, mold growth, and structural damage. Using built-in AUTOFLO™ technology, PCD110XP automatically adjusts the fan speed based on the actual static pressure in the duct system, ensuring a specified amount of airflow.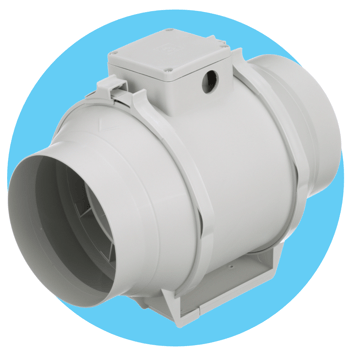 The TD-MIXVENT series are in-line duct fans specially designed to maximize airflow performance with minimal noise levels in a small, compact housing. This makes the TD-MIXVENT series the ultimate solution for small to medium-sized ventilation installations which require a high airflow-to-pressure ratio and occupy minimum space. TD-MIXVENT's efficient performance has led it to be ENERGY STAR qualified.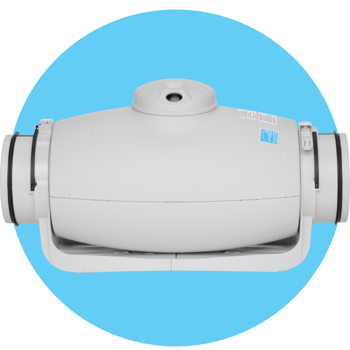 The TD-SILENT fans are extremely quiet, low profile "Mixed-flow" fans manufactured in tough reinforced plastic material, with a single-speed controllable 115V 60Hz motor, and an external connection box. Sound waves are directed through the perforated inner skin and absorbed by a layer of sound-absorbent insulation. These fans are fitted with rubber gaskets on the inlet and outlet to facilitate installation, absorb vibrations, and provide a virtually air-tight seal. TD-SILENT is also ENERGY STAR qualified for its efficient performance.
Get involved
You can participate in ENERGY STAR day by using Facebook, Twitter, and other social media platforms to showcase ENERGY STAR-designated products. Be sure to tag @ENERGYSTAR and use #ENERGYSTARDay so others will see your posts!