For FIVE years running, S&P USA is proud to receive the ENERGY STAR® Most Efficient designation on our reFresh Full-Size 160EC models. For 2023, ENERGY STAR® recognizes S&P's RF10-160EC, RF10-160EC-ES24V, RF10-160EC-P, and RF10-160EC-P-ES24V. In addition, two of our Premium Choice Exhaust Fans, PCD110XP & PCD80XHP, garnered the Most Efficient of ENERGY STAR® 2023 designation.

What is ENERGY STAR® Most Efficient?
ENERGY STAR® is the government-backed symbol for energy efficiency, providing simple, credible, and unbiased information that consumers and businesses rely on to make well-informed decisions. Since 1992, ENERGY STAR® and its partners have helped American families and businesses save 5 trillion kilowatt-hours of electricity, avoid more than $450 billion in energy costs, and achieve 4 billion metric tons of greenhouse gas reductions. ENERGY STAR® is the simple choice for energy efficiency, making it easy for consumers and businesses to purchase products that save them money and protect the environment.
The ENERGY STAR® Most Efficient Mark is considered an extension of the ENERGY STAR® brand and a distinction that recognizes products that deliver cutting-edge energy efficiency along with the latest in technological innovation. It is an award that truly represents the best of ENERGY STAR®.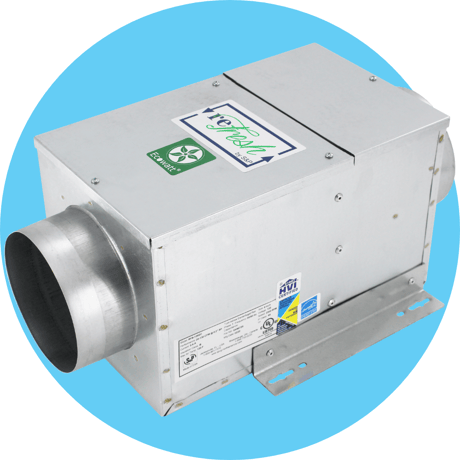 What is reFresh?
reFresh Filtered Supply Fans introduce fresh air from outside the building and into the home through the use of high quality, efficient backward inclined motorized AC or EC impellers. Before reaching the house, outdoor air is pulled through a MERV 8 or MERV 13 filter capturing air up to PM2.5, providing the healthiest air possible. Part of our Outside Air Solutions, reFresh can be used on its own or paired with a Motorized Damper Kit, Premium CHOICE exhaust fan, or TD-MIXVENT to provide the best balanced outside air solution. The compact exterior housing design offers ease of installation and maintenance while adhering to codes and standards such as ASHRAE 62.2, ENERGY STAR®, International Residential Code, and International Mechanical Code.

What is Premium CHOICE?
Premium CHOICE Series Exhaust Fans offer powerful performance while remaining quiet and efficient. PCD110XP, recognized by ENERGY STAR®, features the most efficient DC motor available to help improve indoor air quality by quickly exhausting contaminants and excess moisture that can cause health issues, mold growth, and structural damage. By using built-in AUTOFLO™ technology, PCD110XP & PCD80XHP automatically adjusts the fan speed based on the actual static pressure in the duct system ensuring a specified amount of airflow. AUTOFLO™ ensures that the fan only operates as required, saving energy consumption and cost.